Acton Rangers Gymkhana
Welcome one and all to the beautiful Acton Ranger Arena! Gymkhanas are held on the first Sunday of every month starting in March and ending in October. The arena is located at Smith St and 2nd St next to the Acton Community Hall in Acton, CA.
Sign-ups begin at 7:30 AM. Warm-ups are from 8:30 to 9:00 AM and the first event starts promptly at 9:00 AM. Rules and regulations are available at the sign up booth.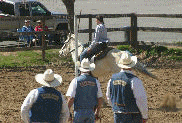 The events are $5.00 each and open to riders of all ages. Children 7 and under must wear protective head gear and everyone is encouraged to do the same.
No shorts are allowed and healed leather footwear must be worn. Riders are placed in one of four divisions according to their skill level. Breakfast and lunch are available throughout the day by various community groups.
Rainbow Ridge Ranch rents and leases horses so you or your kids can participate in the events once or the entire season. Our horses are familiar with the events and crowds and many of the horse have won their share of ribbons.
Call Kathy for more details. Visit our Resource Page to find a link to the Acton Rangers Website and a link for the Entry and Release Forms.